<! -- Start Body of Page -->
February 13, 2013
Kenya: Family Of Hostages Held By Al Shabaab Crying For Help
Sadly, unless they are rescued, they most likely will be killed. The savages of the African Taliban enjoy killing innocents:
Nairobi — Twenty-six-year-old Komora Yesse is an emotionally wrecked man.

His brother's heart-wrenching fate is due to be sealed within the next 20 something hours, in the war-torn Somalia.

So as the clock slowly ticks towards midnight Thursday, he will have to keep checking social networks to know whether or not the Al Shabaab terror group makes good its threat to execute his elder brother, Edward Mule and registration clerk Fredrick Irungu.

"It is very sad. It is hard on my mother because of the pain of losing a child. It is hard on my sister, his wife, my father and me. We just want to talk to him again. All I think of is Mule," says Yesse.[More...]
Al Shabaab's Twitter account was suspended shortly after they posted images of a
French commando
who was killed in a failed attempt to rescue hostage Denis Allex. Also, they
linked to a download
for the below video of the Kenyan hostages. They also tweeted a ultimatum: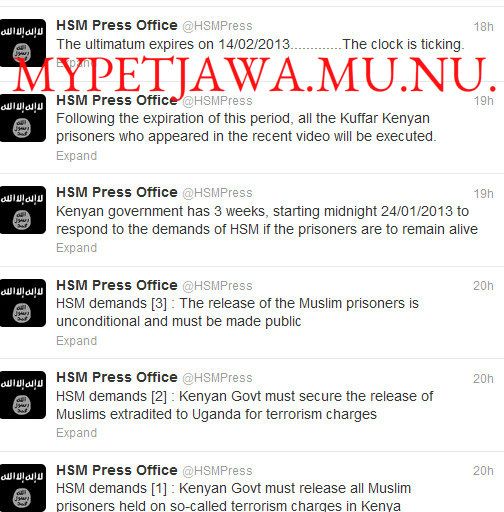 They have since opened a new Twitter account - @HSMPRESS1. I don't see anything on it regarding these hostages and most likely they are careful not to do so. There is also another Twitter account here, but most likely a supporter and not a spokesperson for al-Shabaab.
Tomorrow will tell the tale, sigh. My thoughts and prayers are with the families of the hostages.
<! -- End Body of Page -->