<! -- Start Body of Page -->
February 12, 2013
College Student: Southern Poverty Law Center Endangered My Life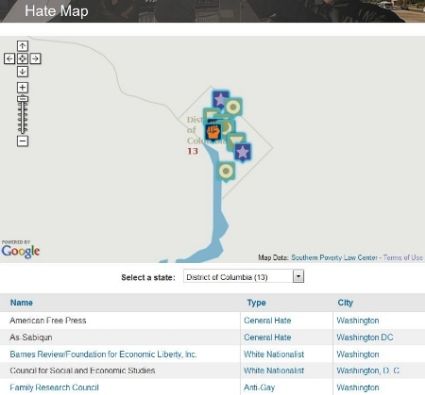 Via Coll-ege In-Sur-rec-tion:
Anna Maria Hoffman is a student who was interning at the Family Research Council when Floyd Lee Corkins entered the building with the goal of killing as many people as possible. Corkins targeted the FRC because of a "hate map" on the SPLC website.

In a new post at the Counter Cultured USA blog, Miss Hoffman offers her thoughts.
SPLC has refused to remove the FRC from their
Hate Map
, so it's no surprise that the MFM holds the SPLC in high esteem and frequently quotes them.
Birds of a feather, so to speak.
Related:
Domestic terrorist, fat bastard, picked his target off a "hate map" on the SPLC website
Family Research Council shooter pleads guilty, intended to kill 'as many as possible'
Shooting at Family Research Council UPDATE: ID'd as Floyd Corkin
Southern Law Poverty Center List of Hate Groups Includes ZERO Islamist Groups
<! -- End Body of Page -->