<! -- Start Body of Page -->
January 24, 2013
Somalia: Al Shabaab, On Twitter, Threatens To Kill Kenyan Hostages
Update: Kenya Won't Negotiate With These Bitches
First, Al Shabaab (aka the African Taliban) tweet a link to the download:


Next, it appears on JihadTube:

Then the threats: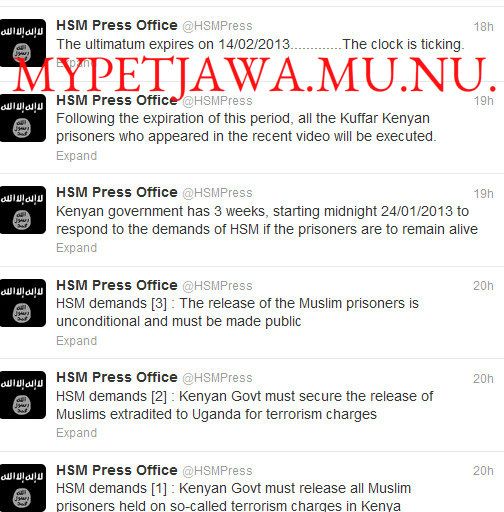 Twitter yawns over TOS violation as they did when Al Shabaab, aka @HSMPress, threatened to kill French hostage Denis Allex if France attempted to rescue him. He died and Al Shabaab tweeted several images of a French commando who was killed in the failed hostage rescue operation.
I suppose we should start calling Twitter JihadTweet or JihadTwitter or TwitterJihad, much like we call Google's YouTube JihadTube.
Update: Kenya officials respond to the above threat We will not bargain with al-Shabaab
* Says government "cannot negotiate with terrorists"
* Nairobi says hostages are non-combatants, not POWs
"not POW's", exactly.
Update: If you so choose, tweet this article to @hrw and/or contact them here and ask why the silence on these hostages and the death threat. If Jews were involved it would be all over the news.
Update: OWND:

<! -- End Body of Page -->