<! -- Start Body of Page -->
January 19, 2013
Just A Ordinary Day At JCPenny In Riverdale, Utah
Via @twitchy
Cindy Yorgason snapped the photo, which is making the rounds of social media. The Salt Lake Tribune reports that the man pictured is 22-year-old Joseph Kelley, who said he was simply trying to demonstrate that guns are safe in the hands of law-abiding citizens.

According to Kelley, the rifle was an unloaded AR-15 and the handgun was a loaded Glock 19C. He said he has a concealed carry permit, is a former member of the military and contacted police dispatch before leaving his home to tell them about his plans. Kelley also said he was told that he was "well within his rights" and that bystanders' reactions were positive.

"I felt no negative vibes from anyone," Kelley said. "I think it went rather surprisingly well."
The above is what's called
responsible gun ownership
. However, the below is a
anti-gun
Dem lawmaker from Virginia
demonstrating his knowledge of weapons and handling of such
: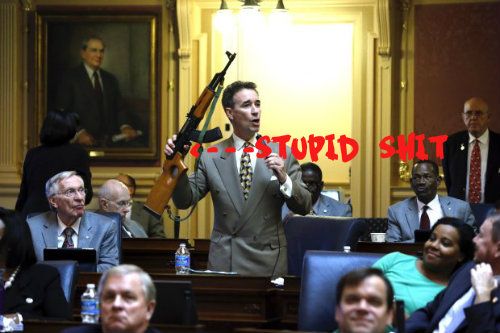 I would imagine the anti-gun Twitter twits, such as this one:
@fox13now: Woman snaps photos of man shopping at JCPenny in Riverdale with a rifle on his back. pic.twitter.com/cDBrdaKt

@IntoRainbowz: @fox13now This is all about attention. It's a very scary image. How do I know he's a "good guy"? I think he has mental issues
Would have no problem with what the Dem did. They also don't have a clue about weapons and safe handling of such.
<! -- End Body of Page -->