<! -- Start Body of Page -->
January 19, 2013
A Weapons Safety Lesson For Joe Morrissey (D-Highland Springs) Of Virginia
Virginia lawmaker's AK-47 sparks gun debate on House floor:
A Richmond-area lawmaker brandished an AK-47 on the floor of the Virginia House of Delegates on Thursday in a wild stunt aimed at rallying support for tougher gun law[....]

Republicans in the chamber were not amused by Morrissey's stunt.

Del. Todd Gilbert, R-Woodstock, interrupted Morrissey's speech to ask him to take his finger out of the trigger guard[More...]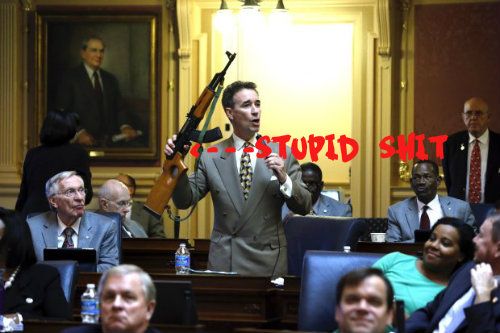 Take your f'n thumb out of that trigger guard, dude (thanks to DMartyr)
I had visions of Morrissey thinking the bad bad weapon wasn't loaded only to find out it was. It certainly would have wiped the smile off of some of the faces in the above picture. Hit the deck, hit the deck...Oh my God, it's loaded!!...Stop, please stop!! Good times, good times, in my visions - naturally.
Now for the weapons lesson for gun grabbing liberals like the above. I normally don't watch Hannity except for when he has a audience he interacts with on a subject I am most interested in. I think most would agree, this was the highlight of the evening (sans Hannity's interruptions)
h/t The Blaze for link to the video.
To close, I would also like to add this:
h/t @ChrisLoesch
<! -- End Body of Page -->