<! -- Start Body of Page -->
January 11, 2013
Iran Sends Jailed US Pastor Saeed Abedin To Notorious Hanging Judge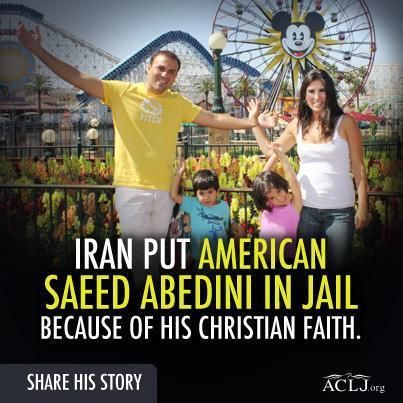 Click image
Bronco Bama and his administration will get right on this, someday:
BERLIN – Iranian authorities have recently assigned the case of imprisoned American-Iranian Pastor Saeed Abedini to a Tehran judge sanctioned by the European Union for human rights violations.

Jordan Sekulow, the executive director of the Washington-based American Center for Law and Justice (ACLJ) wrote The Jerusalem Post by email on Thursday saying, "This development underscores our growing concern for Pastor Saeed. In a country that's hostile to human rights and religious freedom, the news that Pastor Saeed's case has now been handed over to one of Iran's most notorious judges is deeply troubling. In a real sense, Pastor Saeed is an American abandoned in Iran."[More...]
Also, via
ACLJ
The life of Pastor Saeed is in grave danger," said Jordan Sekulow, Executive Director of the ACLJ. " When you read Pastor Saeed's own words[pdf..ed], you understand that Iran has absolutely no regard for human rights and religious freedom. And now facing one of Iran's most notorious judges, Pastor Saeed is in a real sense an American abandoned in Iran. The U.S. State Department has done very little to help this U.S. citizen. We continue to press the Obama Administration to engage this case – to speak out forcefully on Pastor Saeed's behalf and put pressure on Iran's allies to free this American. Time is of the essence."

In a letter released to family members in Tehran today, Pastor Saeed underscores the danger he faces daily:

"This is the process in my life today: one day I am told I will be freed and allowed to see my family and kids on Christmas (which was a lie) and the next day I am told I will hang for my faith in Jesus. One day there are intense pains after beatings in interrogations, the next day they are nice to you and offer you candy," Pastor Saeed wrote.

The entire letter is available here.
Bronco Bama is too busy trying to figure out how to amend our 2nd Amendment than to deal with
a Iranian-American
Christian in peril.
<! -- End Body of Page -->