<! -- Start Body of Page -->
January 10, 2013
Hey Agron Hasbajrami: Watch Out For Your Cornhole, Bud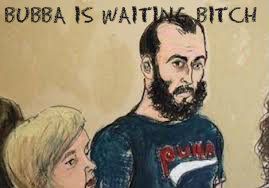 Agron Hasbajrami
A Brooklyn man who pleaded guilty to supporting a terrorist group after he was arrested trying to board a plane to the Middle East to wage jihad was sentenced to 15 years in prison on Tuesday.

As a part of his plea agreement, prosecutors dropped three additional terrorism charges, which could have sent Mr. Hasbajrami, 28, to prison for life. He was sentenced to the maximum 15-year prison term on the single remaining charge.

Judge John Gleeson, who sentenced Mr. Hasbajrami in Federal District Court in Brooklyn, said he would have preferred to send him to prison for even longer.
h/t
TarekFatah
<! -- End Body of Page -->