<! -- Start Body of Page -->
January 03, 2013
Muslim Brotherhood Invites Jews Back To Egypt
Islamic Jihad Wants First Dubs On Killing Them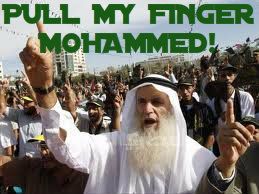 Islamic Jihad vows to fight the Jews if they return to Egypt
The Islamic Jihad movement has called on the Freedom and Justice Party's Essam al-Erian to resign from his role as advisor to the president and apologize to the Egyptian people for his statement asking Egyptian Jews to leave Israel and reclaim their properties back at home.

Erian had triggered controversy over his remarks this week when he said this would pave the way for the Palestinians to regain their occupied land[...]

"They will destroy the economy and foment sedition," he said. "Their return will be over our dead bodies."

"We will continue fighting the Jews until the liberation of Palestine or Doomsday," he said.
Jews and their
Islamist
'friends'. Who need enemies?
Update: Flashback from 2010, Muslim Brotherhood member Mohammed Morsi and now prez of Egypt showing some of his love for Jews & the US:
Morsi in 2010: No to Negotiations with "the Descendants of Apes and Pigs"; Boycott US Products
<! -- End Body of Page -->