<! -- Start Body of Page -->
January 02, 2013
Al Gore Sells Current TV To Al Jazeera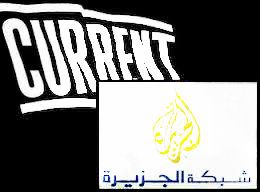 Do you think they will rehire Keith Olbermann?
[#CurrentAlJazeeraShowPitches]
Such a perfect fit, leftist and Islamists
Al Jazeera is finalizing a deal to take over Current TV, the low-rated cable channel that was founded by Al Gore and his business partners seven years ago.

If the deal is completed, Current will provide the pan-Arab news giant with something it has sought for years: a pathway into American living rooms. Current is available in about 60 million of the 100 million homes in the United States with cable or satellite service.
File this under Domestic Dhimmis/Stealth Jihad
Update: Dhimmis at NY Times shows their approval: Al Jazeera Seeks a U.S. Voice Where Gore Failed
Update II: Glenn Beck tried to purchase Current but was turned down
.....The Wall Street Journal reports:

Mr. Hyatt said they agreed to sell to Al Jazeera in part because "Al Jazeera was founded with the same goals we had for Current," including "to give voice to those whose voices are not typically heard" and "to speak truth to power." Other suitors who didn't share Current's ideology were rebuffed. Glenn Beck's The Blaze approached Current about buying the channel last year, but was told that "the legacy of who the network goes to is important to us and we are sensitive to networks not aligned with our point of view," according to a person familiar with the negotiations
Based on Hyatt's quote, the owners of Current TV didn't want Glenn to purchase Current TV and put TheBlaze in millions of home across the country because they didn't agree with his point of view. They must not feel the same way about Al Jazeera, a news organization that ran an op-ed comparing Glenn to a terrorist.
<! -- End Body of Page -->