<! -- Start Body of Page -->
December 29, 2012
On December 29th, 2003 Time Magazine Named The Soldier As Person Of The Year
My heroes: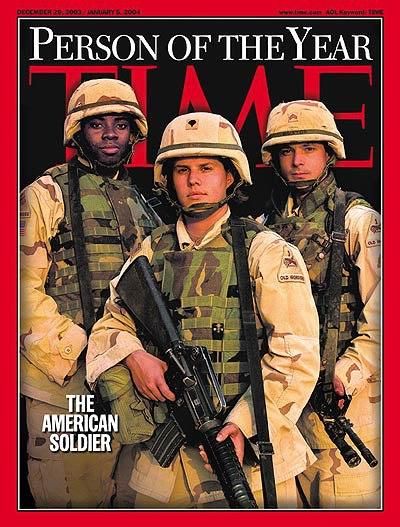 Our finest and bravest should always be Person(s) of the Year
A Twitter person, and I use that term loosely, had this to say about the @USArmy's Tweet about the photo:
@jonletman: @USArmy @TIME The same year the US Military invaded Iraq, bombing that nation and killing untold thousands of civilians
Oh, and apparently Jon Letman
lives in Hawaii
. At least that's the site he links to from his Twitter page. I wonder if he knows Randy Bush who provides internet services to
to Hezbollah
. He lives in Hawaii too.
It would be a small world if he does, just sayin.
<! -- End Body of Page -->