<! -- Start Body of Page -->
September 07, 2011
LEAVE HOWIE ALONE!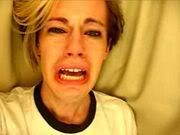 That is all...
Update by Ronin: Lighten up Hugh. Your wife needs a kick in the balls.
Update by Howie: Fuck off Hugh, The others ran this post. I've mostly ignored your crap. If you can't get a post is farce then I don't really want to talk to you. Moron.
So far as reader love mail goes, yours reads like the cheap suit you are.
P.S. And your bitchy wife can suck it.

<! -- End Body of Page -->